3275 COMMERCIAL WAY | SPRING HILL, FL 34606
(352) 596-3938 | Fax: (352) 701-2051
RESTORATION • MEDITATION • MIND-BODY CONNECTION • BREATH WORK
Jodie Fairbanks
Private Yoga Instructor

Namaste (nah•mas•tay)
I honor the place in you in which the entire universe dwells. I honor the place in you which is of love, of truth, of light, and of peace. When you are in that place in you and I am in that place in me...we are one.
Tree of Life offers a unique approach to yoga because it's designed especially for you–body and mind.
Yog–or yoga as it is referred to in the west–is often perceived as a pretzel-like contortionist exercise regimen only fit for the fit and agile. The simplest translation for yog is "to join" or "to unite." Yoga is a systematic practice of uniting your body, with your mind, and with your Spirit. It is available to you in exactly the state and condition you are in–right now–at this moment in time. It is not a competitive practice. It is a loving practice. Private sessions teach you to go inward, grow your mind and body awareness, and develop a self practice. Yoga is something different for every person...let's find out What yoga is for you.
Yoga- is an on and off the mat practice. Learn techniques on the mat to ease stress, discomfort, pain and tension off the mat.
Tree of Life also uses props and supports to bring the earth to you–the goal is to feel comfort and steadiness within the postures.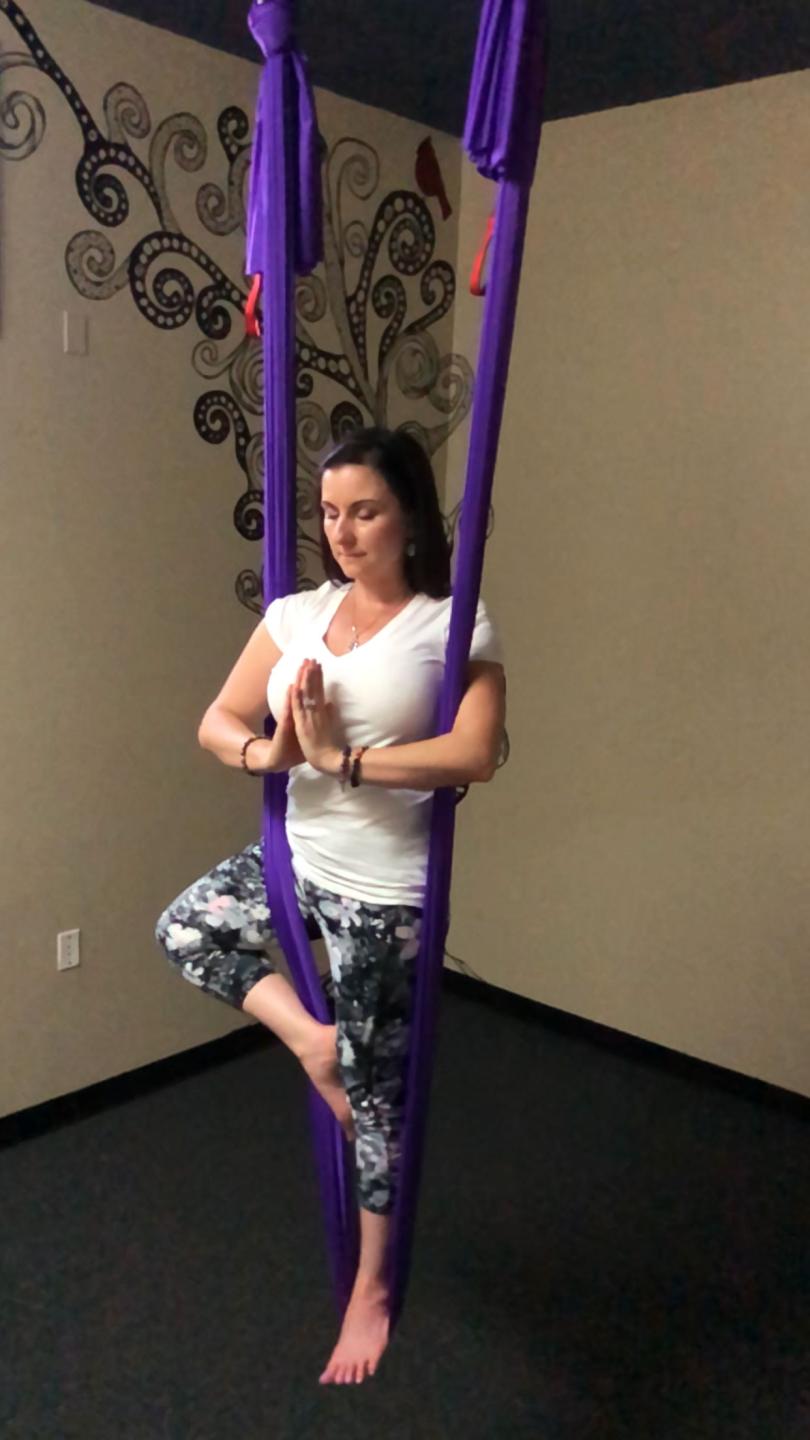 Aerial Yoga
Aerial yoga offers authentic yoga with support of a soft, aerial fabric hammock to explore, refine and advance traditional asana, both in the air and on the ground. Aerial yoga enhances breathing by increasing blood flow to the upper half of the lungs. Aerial yoga strengthens the heart, reducing risk of cardiovascular disease, eases back pain by decompressing the spine and stimulates lymphatic drainage. The weight of gravity also strengthens your bones. Aerial yoga boosts memory by increasing blood flow to the brain, better flexibility and improved balance, improves mood, relieves stress and increases confidence and trust in oneself.